Revue américaine en langue anglaise centrée sur les musiques d'origine cubaine et caraïbes ainsi que sur la Salsa et le Jazz afro-cubain.
LATIN BEAT Magazine .... 15900 Crenshaw Blvd. Suite 1-223 Gardena, California 90249. Tel: 310.516.6767, Fax: 310.516.9916
e-mail us Latin Beat
LATIN BEAT parait mensuellement depuis 1991 et a déjà consacré des études particulièrement fines à de grandes figures cubaines telles que Machito, Miguelito Valdés, Irakere, Peraza, O'Farrill, d'Rivera, Formell, Van Van, E.Salvador, Cachao, Santamaría, Pérez Prado, Walfredo de los Reyes, Tata Palau... à l'histoire de l'Afrocubop, etc...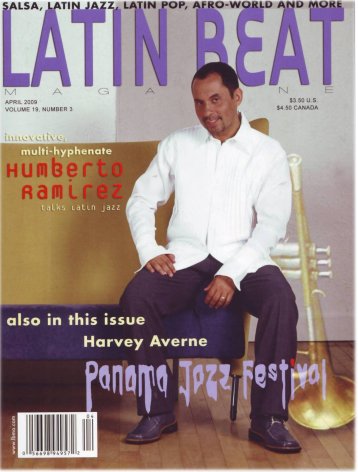 2009, Vol. 19, N°3
Sommaire

EDITORIAL
Obituary: Cachaito
Que Pasa in Los Ángeles.
Latin Beat Music Update.
Desde Borinquen-Puerto Rico.
Desde La Bahia-San Francisco.
A bite from the Apple-New York.
Umberto Ramirez. The Music-Maker
by Rudy Mangual.
2009 Panama Jazz Festival

The Art of Latin jazz
by Louie Cruz Beltran.
West Coast Latin Jazz Spanish Harlem.
by Rudy Mangual.
The Arvito Harvey Averne Story.
by Chico Alvarez Peraza.
Jazz Latino de la Bahia.
by Jesse "Chuy" Varela.
Latin Beat CD Reviews: Bobby Valentin, The V Note Ensemble, Bobby Matos, Soneros del Gallo,
Juan Formell y los Van van, Sambaguru, Joe Bataan, Tumbao Bravo, ...