Revue américaine en langue anglaise centrée sur les musiques d'origine cubaine et caraïbes ainsi que sur la Salsa et le Jazz afro-cubain.
LATIN BEAT Magazine .... 15900 Crenshaw Blvd. Suite 1-223 Gardena, California 90249. Tel: 310.516.6767, Fax: 310.516.9916
e-mail us Latin Beat
LATIN BEAT parait mensuellement depuis 1991 et a déjà consacré des études particulièrement fines à de grandes figures cubaines telles que Machito, Miguelito Valdés, Irakere, Peraza, O'Farrill, d'Rivera, Formell, Van Van, E.Salvador, Cachao, Santamaría, Pérez Prado, Walfredo de los Reyes, Tata Palau... à l'histoire de l'Afrocubop, etc...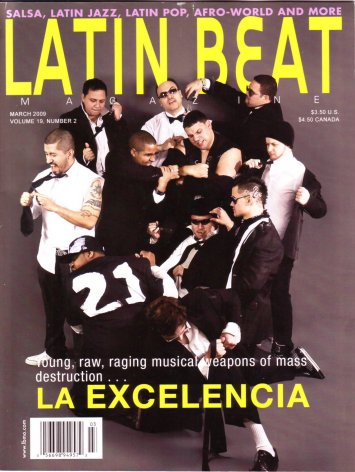 2009, Vol. 19, N°2
Sommaire

EDITORIAL
Obituary: Pedro "Cuban Pete" Aguilar.
Que Pasa in Los Ángeles.
Latin Beat Music Update.
Desde Borinquen-Puerto Rico.
Desde La Bahia-San Francisco.
A bite from the Apple-New York.
La Excelencia
by Pablo Yglesias.
Palmieri live at Yoshi's San Francisco
by Jesse Varela.
FB Lounge: A Musical Oasis in the heart of New York's Spanish Harlem.
by Gabe Romero.
First anual voices of latin rock.
by Jesse Varela.

Latin Beat Book Reviews: Machito & his Afro-cubans
Latin Beat CD Reviews: Havana Salsa team, Leon Moobley, Joseph Diamond, Yomo Toto, Paoli Mejias, The Latin Giants of Jazz, Orquesta America, Oswaldo Rodriguez, Conjunto Imagen, Mariah Parker.