Revue américaine en langue anglaise centrée sur les musiques d'origine cubaine et caraïbes ainsi que sur la Salsa et le Jazz afro-cubain.
LATIN BEAT Magazine .... 15900 Crenshaw Blvd. Suite 1-223 Gardena, California 90249. Tel: 310.516.6767, Fax: 310.516.9916
e-mail us Latin Beat
LATIN BEAT parait mensuellement depuis 1991 et a déjà consacré des études particulièrement fines à de grandes figures cubaines telles que Machito, Miguelito Valdés, Irakere, Peraza, O'Farrill, d'Rivera, Formell, Van Van, E.Salvador, Cachao, Santamaría, Pérez Prado, Walfredo de los Reyes, Tata Palau... à l'histoire de l'Afrocubop, etc...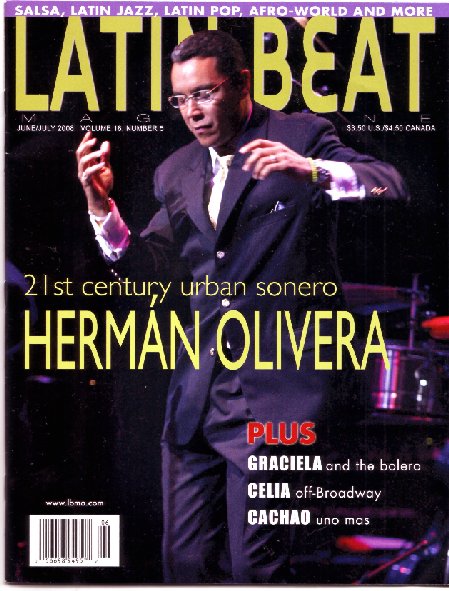 Sommaire
West Coast Beat

EDITORIAL
Que Pasa in Los Ángeles
Latin Beat Music Update
Desde Borinquen-Puerto Rico
Desde La Bahia-San Francisco.
A bite from the Apple-New York
East Coast Beat
Hermán Olivera. The urban sonero of the 21st Century.
by Rudy Mangual.
Puerto Rico Army National Guard band. The 248 th Army Band.

Music is a remedy for the Soul.
A conversation with Francis Ndoumbe
by Luis Tamargo.

A César lo que es de César, y a Graciela... ¡El Bolero!
by Chico Álvarez Peraza.
Incantations off Broadway. Celia Lives on!
by Chico Álvarez Peraza.
From Panamá: Orquesta Yaré, la que toca como es!
by Eric González.

Film review: Cachao "Uno más"

Latin Beat CD Reviews: Luis Mario Ochoa, Jazz Spy, Haila, Ray Viera, Esperanza Spalding, Pacho con Cuni Jr y el Niño Chapottin, Elio Villafranca, Ray Barreto, Tirso Duarte, Orquesta Borinquen.